Tangle Network
Announcing the Tangle Network Testnet Launch
Webb is excited to announce the Testnet launch of the Tangle Network testnet, a major milestone in realizing our vision for an advanced blockchain infrastructure optimized for zero-knowledge and multi-party computation services. We are also excited to share the Tangle Network Whitepaper.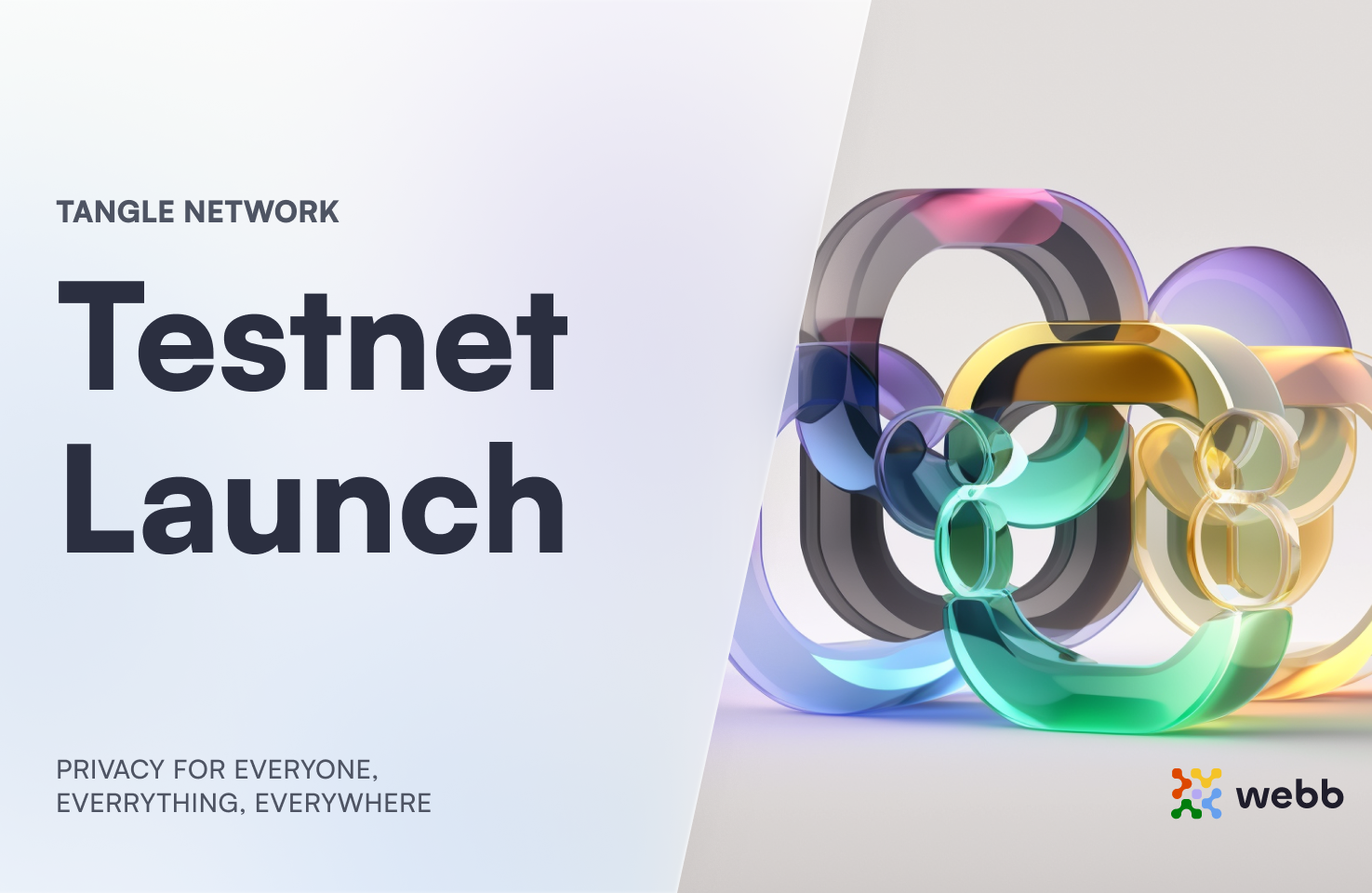 Webb is excited to announce the launch of the Tangle Network Testnet, a major milestone in realizing our vision for an advanced blockchain infrastructure optimized for zero-knowledge and multi-party computation services.
Additionally, we are also releasing the Tangle Network Whitepaper.
Introduction
The blockchain landscape is plagued by issues of interoperability, scalability, centralized governance, and compromised privacy. Existing networks often exist as isolated ecosystems, stifling collaborative opportunities. Tangle Network, architected on the robust Substrate framework, is our answer to these challenges—offering a next-gen blockchain infrastructure built for MPC-as-a-service, seamless cross-chain collaboration, enhanced privacy, and decentralized governance.
Our Vision
Our ultimate aim is to simplify the development and deployment of advanced cryptographic and zero-knowledge applications. We offer:
Proof-as-a-Service: Offload the computational rigor of proof generation to Tangle's validators.
Trusted Setup-as-a-Service: We host trusted setup ceremonies, eliminating the complexity for developers.
Signing-as-a-Service: Benefit from our threshold signing capabilities for secure cross-chain functions like bridges and oracles.
By eliminating these bottlenecks, we enable developers to focus on building innovative, secure, and private decentralized applications.
Key Features
Powered by Substrate for unmatched speed, security, and scalability.
Decentralized governance through Distributed Key Generation (DKG).
Multi-party computation protocols designed for zero-knowledge applications.
Privacy-first approach with zero-knowledge features.
Comprehensive cross-chain compatibility including IBC and XCM.
Ethereum Virtual Machine (EVM) support to easily port existing apps and tools.
Hassle-free, forkless upgrades.
Roadmap
The Testnet launch begins with the unveiling of an in-depth whitepaper. This foundational document will explore the intricacies of multi-party computation and zero-knowledge infrastructure, as well as provide detailed technical specifications.  During the testnet phase, other events are planned to encourage engagement and testing of the developer infrastructure.
Slated for a Q1 or Q2 2024 release, the mainnet launch will be accompanied by an array of community engagement activities, including hackathons, workshops, and specialized developer bootcamps. Concurrently, Tangle Network will introduce a grant program targeted specifically at fostering development in the realms of zero-knowledge and multi-party computation applications. After mainnet, on-chain governance mechanisms will be instituted, empowering the community to play an active role in pivotal decision-making processes. Each of these calculated steps aims to expedite the widespread adoption of zero-knowledge applications, solidifying Tangle Network as the preferred platform for privacy-focused decentralized applications.
Testnet Details
The Tangle Network testnet is now live for developers to start building and testing applications. Key details:
Participating
There are a variety of ways to participate in the testnet launch:

About Webb
Webb, founded by visionary Drew Stone, is a premier cross-chain zero-knowledge messaging layer, dedicated to redefining blockchain privacy. Seamlessly connecting blockchains with state-of-the-art zero-knowledge technology, Webb offers a suite of tools designed for zero-knowledge (ZK) and multi-party computation (MPC) applications in the multi-chain universe. Backed by industry stalwarts like Polychain, Lemniscap, and Commonwealth Labs, and rooted in deep expertise and contributions to the blockchain space.
Contact Information
For media inquiries, partnerships, or further questions, please contact us at [email protected]